Picking the right audio interface for your home studio can be difficult.
I get it. I had to do this myself once, too.
"What brand is best?" "What ports and buttons and switches should it have?" "How much should I spend?"
There are so many factors to take into consideration. There are literally hundreds available so how are you supposed to choose?!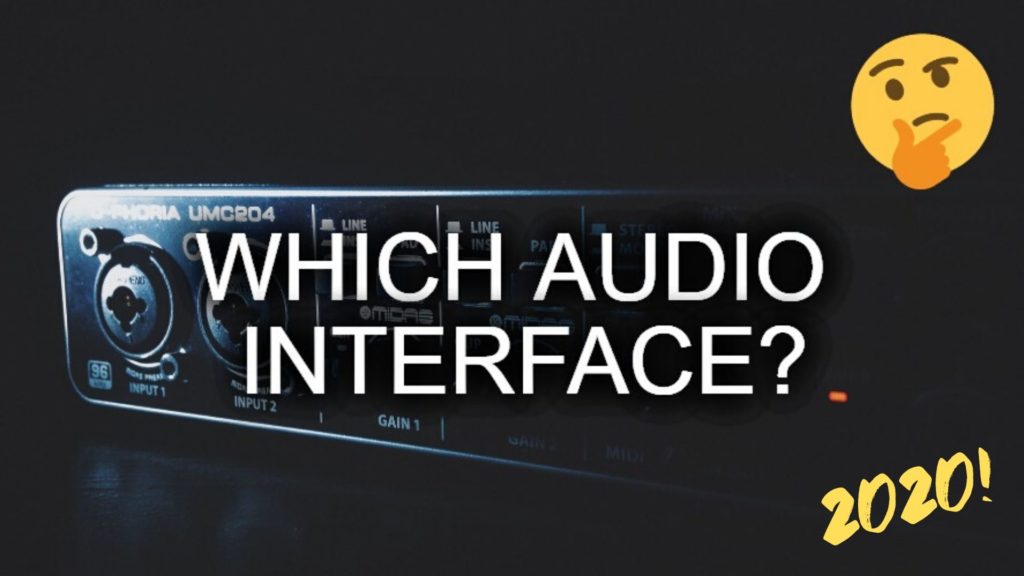 I am going to simplify things so that all you have to do is answer one simple question.
But before we get to that, if you're not sure exactly what an audio interface does and why you definitely need one (or you just want a little more information), I highly recommend having a read of this guide first – What Is An Audio Interface And Why Do I Need One?
The One Question
So, the only thing that you need to ask yourself is this –
How much do I want to spend?
Simply pick your budget and zoom down to that part of the page.
You'll find my carefully curated best pick at that price range. I've only picked quality devices that I have researched and then used myself, or a fellow engineer has used.
I've chosen interfaces that include all of the basic functions that you're going to need to get started as an Audio Pro.
Now, let's go.
Under $50/£30
Do you want an audio interface that has almost every feature a beginner musician or producer could need for under $50? Does this even exist?
What wizardry is this?!
Behringer have managed it with the Uphoria UM2. They've packed a huge amount of value into this tiny box. I recommend getting an interface with at least one XLR and one jack input for any musician or producer. And thankfully, the UM2 includes one of each for under $50. This means you'll be able to record a mic and an instrument line in at the same time.
Single LED signal and clip indicators are featured so that you can make sure you're not overloading the preamps. +48v phantom power is available (via a switch on the rear) for use with condenser microphones and active DI boxes. Bear in mind that this can only be applied to both inputs simultaneously.
Phono outputs are found on the back for connecting up your speakers, although you may need an adapter if your speaker inputs require jack connectors.
The UM2 has a plastic body, which is forgivable at this price range. It does mean that it's not as well equipped to take a knock as some of the more premium options. However, it's lightweight and small, meaning it could also be a useful secondary, portable interface for the travelling musician.
Behringer's own Tracktion DAW software is included to get you started with recording (if you don't already have a DAW). One thing to keep in mind is that the UM2 doesn't use it's own dedicated driver – so make sure you keep your computer's drivers up to date (particularly PC users).
+ Super cheap
+ Two inputs
+ Phantom power
– No dedicated drivers
– Plastic construction
2. Under $100/£75
Now we're starting to get into some high quality gear.
PreSonus has packed a lot into this interface while managing to keep the footprint small. You're getting two XLR/jack combo inputs letting you multitrack up to two mics at once.
Phantom power is included, but bare in mind that it can only power both inputs simultaneously. A nice addition is the input/playback fader, giving you precision control over what you're hearing while you're tracking.
PreSonus equipment does tend to feel solid enough for the price and the AudioBox is no different. The brushed blue metal frame stands out and give the interface some weight which helps with stability when multiple cables are plugged in.
MIDI I/O is included on the rear as is the phones output. I find the placement of the phones output awkward. Generally speaking you're going to be sitting in front of the interface and having the headphone cable coming from the back can be messy and cause strain on the wiring. Whether or not this is an issue will depend on your setup though, and it does mean PreSonus have managed to keep the physical footprint small.
If you don't yet have a DAW to record into, you might find the included StudioOne Artist software a useful bonus. StudioOne is a perfectly usable DAW, and is my go-to if I'm required to track on a non-studio PC.
+ Great value
+ Lots of features in a small package
+ StudioOne Artist included
– Some have reported driver compatibility issues
– Rear-facing phones output
4. Under $150/£100
Focusrite are my 'go to' when purchasing a new interface as they're always of a solid construction, they have loads of options for different I/O needs and I never have to worry about noise.
They've have been making quality preamps and mixing desks since the days of recording to tape. They're not the cheapest, and sadly, even at this price point you're missing some I/O options that cheaper interfaces have. Namely MIDI and alternate speaker outputs. But aside from this, I can't fault the Solo.
From the solid, metal construction to the tactile knobs and clicky buttons, you can feel the quality.
Two inputs are included, but you are restricted to a single XLR and a single jack input, similarly to Behringer's offering. Focusrite have made the phantom power switch accessible on the front of the box. Also, a 'direct monitor' button has been added to hear playback with near-zero latency.
The Solo is the first on the list to support recording at a sample rate of 192Khz. For most musicians and producers, recording at this resolution is overkill – but it's certainly nice to have the option.
And finally, the most exciting thing to see on these new devices is the addition of the 'Air' button. Activating this on the corresponding preamp will give your recordings a high frequency boost and some subtle harmonic distortion – emulating those classic tape days.
If you can't live without the MIDI I/O or want to record two mics at once, I'd recommend picking up the PreSonus AudioBox (as above) or the Steinberg UR22c (as below). For most musicians and producers however, the Scarlett Solo is a fantastic option – if it fits your budget.
+ Exceptional preamps for the price
+ Sleek, tough design
+ 'Air' feature for tone shaping
– Missing some I/O the cheaper options have
3. Under $200/£150
We know that Steinberg can make a solid DAW with Cubase, but can they make quality hardware too?
They've proven that they can with the UR22C. In the same vein as the PreSonus above, two XLR/jack combo inputs are included with high-quality preamps. The headphone output is found on the front, and the rear features MIDI I/O and speaker outputs.
The UR22C is an update on the UR22 mkII (featured in last year's guide). Steinberg have made a handful of improvements over the previous model. The knobs have been re-positioned, with a larger output knob for ease of use. The useful input/DAW knob has been retained, and most notably, the new model can support a bit rate of up to 32-bit – higher than most small interfaces on the market.
Steinberg have included two free DAWs again in the form of Cubase AI (for PC and Mac) and Cubase LE (for iPad).
A DC power adapter is included. You can power the device via USB, but if you need some extra oomph when recording to an iPad with phantom power, you'll need to plug it into the wall.
The 'peak' LEDS will illuminate red if your signal is coming in too hot. Sadly, there's no general level indication. At high levels you may also find a tad more 'self noise' than some of the other options on this list. You shouldn't need to crank the inputs loud enough for this to be an issue, though.
A lot has been packed into this steel box of wonders, and with the included software options the UR22C sets you up on a great start.
+ Supports up to 32-bit/192Khz
+ Solid, steel casing
+ iPad connectivity
– Noisier preamps than others
5. Under $250/£200
The MOTU M4 is the most recent audio interface on this list – and by looking at it you can probably tell.
Up until now, MOTU haven't had much of an impact in the low-cost, USB audio interface space. With the introduction of the M4 (and the smaller M2) though, they've blown it out of the water.
The M4 features all of the functions that you would expect at this price range including two XRL/jack combo connectors with super clean preamps and MIDI I/O. It's the features that you don't expect that really make this one special, though.
The most stand-out feature is it's beautiful VU metres on the front. An LCD display shows an accurate representation of the level of audio going in and out of the unit – much clearer than the typical clipping LED. This is something you won't see in interfaces even three times the price! A loopback feature is also built-in – great for podcasters and streamers.
It doesn't stop there though. The preamps have their own individual phantom power and monitoring buttons and an input/monitor dial is included to blend between low-latency monitoring and playback. And to top it all off, the M4 supports a bit rate of up to 32 bit – something we're only starting to see in the more modern interfaces.
MOTU have stormed in, all guns blazing this year with two feature-rich, well-constructed pieces of hardware.
+ LCD display for monitoring
+ Independent 48v and monitor buttons
+ Low noise
+ 2 pairs of monitor outputs

6. Under $300/£250
If you've spotted the other Focusrite interface earlier on in the article, you may notice that I'm a big fan of this range. The 8i6 is one of the Solo's big brothers. I recommend reading the review for the Solo first to get a rundown on the main features and design choices.
It features the same high-quality preamps in the form of two XLR/Jack combo connectors. In addition, phantom power is switchable on the front face, as is the 'Air' feature for tone shaping.
What sets the 8i6 apart from its smaller counterpart is the number of available inputs. An extra four jack inputs are found on the rear. You'll be able to record up to 6 instruments simultaneously but bear in mind that the rear inputs are for line-level instruments only, such as keyboards.
Dual speaker outputs give you the option of monitoring from two sets of speakers. Two headphone outputs are present which is super useful when recording another musician. The 8i6 also adds MIDI capabilities as well which aren't available on the Solo.
All of this is housed in Focusrite's iconic scarlet red brushed metal casing. The Scarlett 8i6 is the best of the bunch in the sub-$300 market. It certainly makes choosing which audio interface to buy easier with Focusrite pumping out so many quality options.
+ Up to 6 simultaneous inputs
+ 2 headphone outputs
+ Sleek, tough design
+ 'Air' feature for tone shaping
Now Let's Get Recording!
Choosing which audio interface to buy can be overwhelming – but it doesn't have to be.  I hope that narrowing down the options here means you can answer the question "which audio interface should I buy?"
And if you're still not 100% sure, feel free to drop a comment below and I'll do my best to clear up any queries you may have!
Note: Please make sure to check that your system is compatible with any studio equipment before buying.