Getting started with recording, mixing and production on your computer doesn't need to be expensive. As I explain in part 1 of my home studio building guide, a digital audio workstation, or DAW, is one of the most essential components of a music studio. And, while they can get pricey, there are plenty of free options available.
For those unsure, a DAW is a piece of software that provides an environment and graphical interface for recording and editing audio files on your computer.
I've put together a list of the best free DAWs. I've included something for everyone, depending on what you want to learn and what your needs are. Find one that's right for you, but remember, they're all free, so there's nothing stopping you from trying them all!
Our 7 Best Free DAWs
Easy to learn with scope for future expansion
StudioOne 4 Prime is PreSonus' free DAW for both PC and Mac. Its attractive user interface is easy to learn and it supports audio and MIDI. It also includes plenty of features you'd expect to see on a premium DAW such as automation.
Only a small selection of plugins are included, but if you're just getting started, focusing on the basics is advised, anyway. And what's more, once you feel that you're ready to take your production skills to the next level, PreSonus offers some very affordable premium upgrades.
Best for Mac users and a solid intro to Logic
Garageband is one of the best free DAWs for any Mac user for two main reasons. Firstly, it's included for free, and secondly, it functions similarly to Logic Pro – an industry standard, premium DAW.
It's a fully-fledged DAW, with a huge, 255 track limit and a tonne of built in virtual instruments. The essential plugins are all here, and all fit within the cohesive Apple aesthetic, getting you ready for Logic if you decide to upgrade in the future. But just remember, this one's for Mac users only.
The only fully featured free DAW
Cakewalk is the most fully-featured best free DAW that no money can buy. Previously offered as paid software under the name Sonar, Cakewalk now makes it all available for free. The essential plugins are included, with support for additional VST plugins. Unlimited tracks are supported as well, which is rare for a free DAW. A large number of virtual instruments and loops are included too, making Cakewalk a solid choice for whether you're recording or sequencing.
Cakewalk is not commonly used in the professional industry. The skills you'll gain from using it are transferable to other DAWs, though. Cakewalk is 100% free, with no premium options, making it the best option if you don't want to spend any money.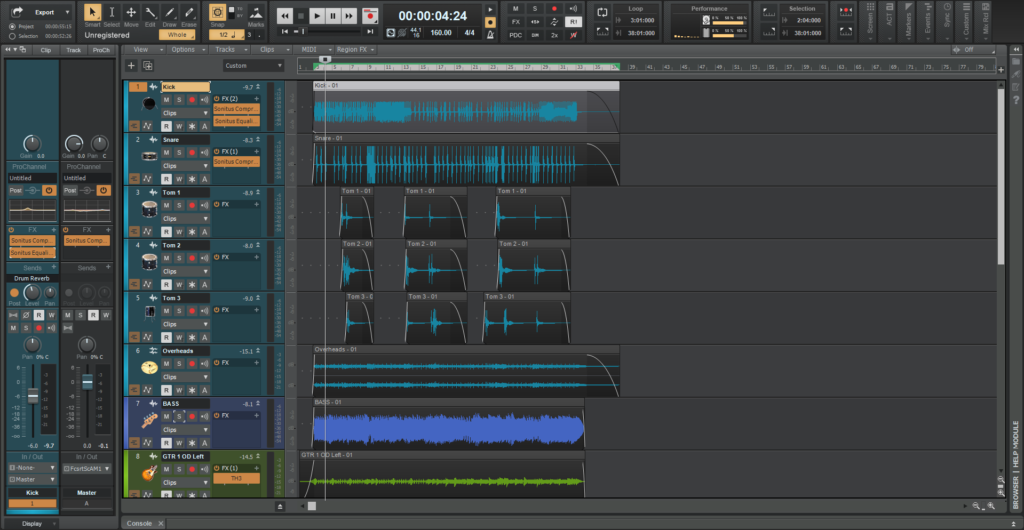 The best option for learning the industry standard
If you're aiming for a job in a professional studio, learning how to use Pro Tools will be a huge boon. Despite there being dozens of other DAWs on the market now, Pro Tools is still the number one industry standard for audio recording.
The best way of getting your head around Pro Tools, of course, is by starting with Avid's basic version – Pro Tools First. First is a reasonably well-featured version, with 23 plugins included, and the most important editing tools. The main drawback is its 16-track limit. This shouldn't be too much of a burden though when you're just getting started with recording and mixing. If you do struggle with the track count, you can always bounce down multiple, mixed tracks into stems.
While Pro Tools isn't the most intuitive DAW for beginners, starting with Pro Tools First will get you on track to learning the industry behemoth as fast as possible.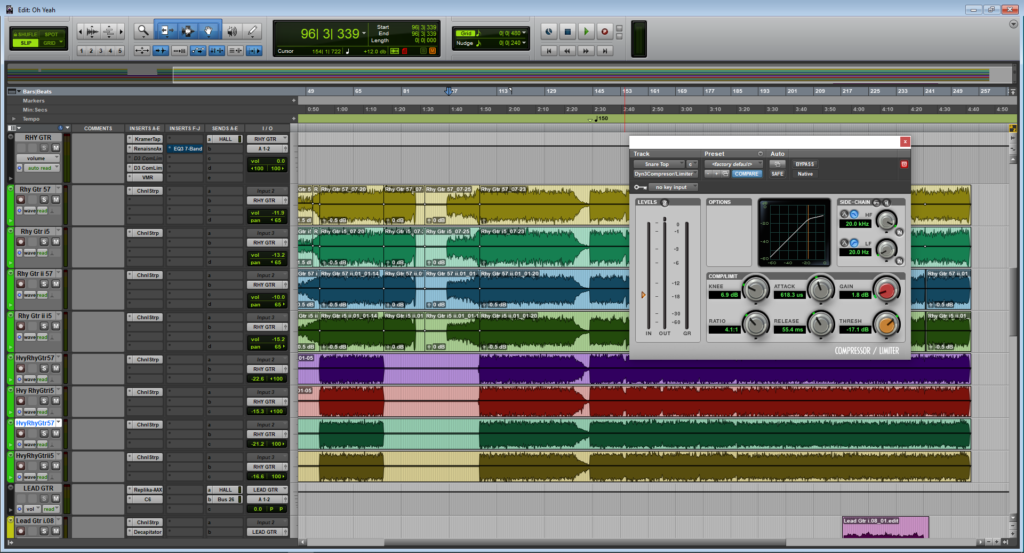 One of the best free DAWs for beginners
I must admit, I have a soft spot for Cubase. I first learnt how to record and mix on Cubase 4 back in college. Things have changed a lot since then – we're now on version 10.5 – but the DAW remains the same at it's heart.
The attractive user interface (similarly to Studio One) is easy to learn. The free LE version includes a similar set of features and limitations as it's competitors, with a 16 audio track maximum (and 24 MIDI tracks) and 23 included plugins. Cubase LE is a solid option for getting you started.  
A unique way of creating and performing electronic leaning music
Ableton Live 10 Lite offers up Ableton's unique interface and workflow at the low price of nothing. While commonly used with MIDI controllers for electronic music, Ableton Live is still suitable for recording live audio. You are limited to only 8 audio and MIDI tracks in the Lite version, though.
MIDI effects, software instruments and a generous package of loops are included. The MIDI editing and MIDI controller functionality is what sets Ableton Live apart from the other DAWs. If you lean towards electronic music and live performance of programmed music, you may want to give Live 10 Lite a try. Be wary, though, if you're already used to another DAW, getting to grips with Ableton Live may take a little work.
A lightweight audio recorder and editor that's very simple to learn
Audacity is a DAW at its most rudimentary level. It's basic interface and simplistic multitracking functions allow you to record and edit audio, albeit with far less finesse and control than the other offerings here. However, while it's lacking in features, it makes up for it with its ease of use and lightning-fast loading. My main DAW is Pro Tools, but I still find myself firing up Audacity if I need to make a super-quick edit, listen back to a master or record a single track of voice-over audio.
Audacity is basic, but it's entirely free, open-source and offers enough of the basics to get you started with learning to record. Check out our full, free Audacity course.
---
Have you chosen your DAW? Do you agree with our list of the best free DAWs? Comment below with your favourite!
If you don't already have an audio interface, this should be your next step for learning how to record and produce music. Find out what the best budget interfaces are right here.