Learning how to mix music doesn't need to cost the world. In fact, it doesn't have to cost anything at all to get started. There are a huge variety of free mixing courses and tuition available online. Some of them are useful, some of them are not so useful.
It can be time consuming and overwhelming to attempt to dig through all of the content that's out there. With that in mind, I've curated a few resources to get you started. All of the courses and tuition on this list contain genuinely helpful, yet easy to follow training.
I've kept the list relatively small for good reason. Whilst playing the field a little can be helpful when finding the right tuition for you, it's possible to be overloaded with information. All this over-saturation does is make it take longer for you to take action and get stuck in.
So have a go with the free mixing courses and tuition listed here, and see how you get on. If you're in need of some material to practice with, you'll find plenty of free multitracks to download online. And if you don't have any software to practice on yet, I've put together a list of the best free digital audio workstations for you to download today.
Let's get mixing!
Graham Cochrane started the first 5 Minutes To A Better Mix series almost ten years ago, but it's still just as relevant today. The course offers 93, bite-sized snippets of mixing tuition. Each video is only five minutes long (naturally) and focuses on a different aspect of mixing, e.g. gain staging, compressing drums etc.
In an internet of over-stuffed content designed to keep you engaged for as long as possible, it's refreshing to work through some more focused tuition, designed to offer up as much useful information in as short a time as possible.
This is perfect for those who are working in mixing training around their busy lives. Setting yourself a target of one or two videos a day will help to keep you on track. There's no need to rush though. As you learn a new technique, try putting it in practice on a mix of your own. If you don't have enough material to practice on, there are plenty of free multitracks to download and experiment with.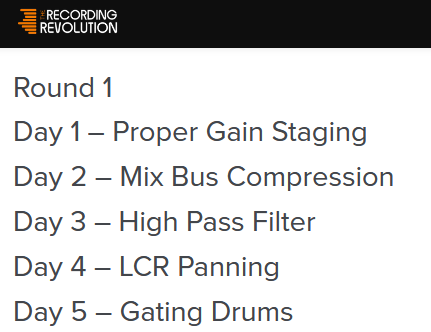 Plugin kings, Waves, offer an eight-video mixing course that teaches you the full process of mixing a song. The course is taught by Grammy award winning engineer, Dave Darlington.
The great thing about this course is that it takes you from beginning to end – from deciding on the sonic vision for the song to putting on the finishing touches. This helps teach you the full process, rather than jumping around between videos and trying to piece everything together in your head. The Pro Tools sessions and multitracks are also included for you to practice along as you watch.
As the course is taught by an industry expert, you know that the information you're getting is worth listening to. Of course, being produced by Waves you can expect a heavy leaning towards Waves plugins, but you can of course stick with the plugins that come with your DAW.
Of course, I couldn't leave this one out! Right here on www.joecrowtheaudiopro.com, you'll find a variety of guides, tips and techniques focused on getting you started on your audio engineering path.
I offer helpful content that teaches mixing, production workflow and also how to take your home studio skills and pivot them into paid work in the industry. Have a browse through the Blog section, or use the search function on the right of the page to find what you're looking for.
What's more, if there's anything you need help with that hasn't been covered yet, just drop a comment below or email me at hi@joecrowtheaudiopro.com and I'll do my best to put something together for you.
Sound Gym is a genius creation that 'gamifies' ear training. Signing up for free gives you access to a handful of training games designed to improve your EQ, panning and level recognition abilities.
While this doesn't specifically teach you how to mix music, it trains your ears to be a better mixer. Spending five minutes a day on Sound Gym tuning your ears before you start mixing helps you to make decisions on your mix more quickly. After all, your ears are the most important tools that you have when it comes to mixing.
Sound Gym also offers a premium service for those who want to train their ears for compression, delays and more.
---
So, how did it go? Drop a comment below with which free mixing courses or training you tried and if it helped you.